Welcome our home page!
The Guestbook has been removed from this website due to people out there that do not have any respect for genealogist. Please contact me by email if you have any questions or comments. Gail Haferkamp
March 2004: At the present time we are a small group of Hoss/Hose/Hess (and other various spellings) family researchers who are striving to gather facts, i.e. documentation on the Hoss/Hose families of Maryland; Logan & Simpson Co., Kentucky; Lincoln, Warren and Montgomery Co. of Missouri.
NOTE from compiler and webmaster: No doubt I have made errors in compiling the information contained on this website. If you find errors, please contact me from the Contact Page or email from below and I will make changes accordingly.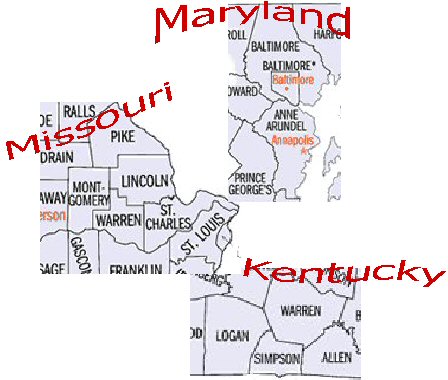 Our Objective
Our objective is to try and open the door for more serious researchers that are fooking for fact....not fiction, speculations or assumptions in the area of interest. The more facts, i.e. documentation, we present on this website the more helpful it will be to solve the puzzling Hoss's.
As to the name of Hoss, as in any surname, there are various spellings found in documents and variances in the way it is pronounced. We intend to keep that in mind when posting facts, i.e., documentation.
Maryland: Baltimore
Kentucky: Logan, Simpson and Warren County
Missouri: Warren, Lincoln and Montgomery County
The Group

For many years certain Hoss family researchers has "assumed" that Henry Washington Hoss was the son of Charles Hoss (who married 3 or 4 times) of Warren County, Missouri and Charles was the son of Jacob and Mary Boone/Bohne. The main reason for this was because of the lack of facts. We are in no way critizing or casting dispersions on any work done by these family historians and salute them for the work they have done. Thanks to the internet and other sources that have opened up we have access to some information that they did not have.
If you would like to contribute information, i.e., documentation then please send your information to me........
Gail Cope Haferkamp
The Guestbook has been removed from this website.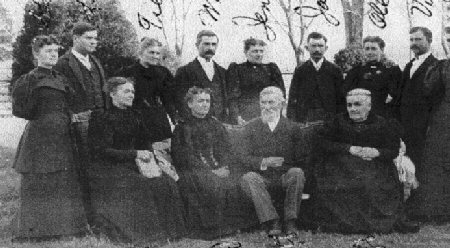 Henry Washington & Martha Jane Eidson Hoss & Family
Back Row (standing left to right): Georgie Hoss (Mrs. John Hanaway), Martin Luther Hoss, Martha Matilda 'Tillie' Hoss, William H. Hoss, Virginia 'Jennie' Hoss Ingram, Jacob Berry Hoss, Ollie Blanche Hoss (Mrs. Joseph W. Cushman), Virgil Hoss, Lucy Catherine Hoss.
Front Row (seated left to right): Mary Elizabeth Aydelotte (Neal), Belle Hoss (Mrs. Sam Aydelotte), Henry Washington Hoss, Martha Jane Eidson, Hoss.
This photo courtesy to webmaster from Barbara Ingram. There is another photo showing all the same people but a different pose. Photo was taken perhaps in late 1890's.